Movement quantification, "move-to-earn" mechanics, and Web 3.0 principles can usher in a new era of transparent and quantified health. Andy Hall (OliveX) and Shiti Rastogi Manghani (STEPN) talk about how the "move-to-earn" idea can potentially be turned into a holistic "be healthy-to-earn" approach.


🧩 OliveX created the DOSE token, a Non-Fungible Token. It's the token of purchase, utility, and action and is at the heart of the OliveX gamified fitness ecosystem. Players receive DOSE tokens for completing workout-based gameplay. These tokens can be used to unlock items, purchase NFTs and participate in special events and game modes.

OliveX is building a Fitaverse. What will it look like? What goals are you trying to achieve with it?
Andy: We own a piece of land within the open-world Sandbox ecosystem. It's a play-to-earn model where you can socialise, experience new things, and go on missions to earn cryptocurrency in the form of in-game tokens. At OliveX, we're bringing fitness partners into our metaverse to help engage the inactive population with fitness and try to incentivize them to move more in the real world. Whether it's our own move-to-earn games or within the ecosystem of our fitness partners, we want to find ways to incentivize people. What we've found is that there's a huge percentage of inactive people in the crypto and NFT gaming community. If we can go to them in that safe space within the metaverse and educate them, then we can find ways to encourage them to become more physically active. But also, as you know, with gaming, you've got the Gen Z and alpha populations, which are our future users too, which are important to bring on the Web 3.0 journey with us at OliveX.


Andy Hall: The Fitaverse-Announcer
Andy Hall is a true FitTech veteran. He entered the fitness world as a trainer, moving to Fitness First, TruBe, and later working for EGYM and Les Mills. For the past two years, as Head of Commercial, he's been helping OliveX build the Fitaverse - an amalgamation of fitness, NFT-technology, gaming, and the Metaverse.
(🤝 Meet Andy on LinkedIn)

OliveX: Connecting the dots for the Fitaverse

With OliveX, Andy is helping to create a Fitness Metaverse infrastructure within The Sandbox. The Fitness Metaverse merges gaming and fitness, providing incentives for movement and educating inactive users. 600,000 people have already registered for the OliveX audio-based blockchain game Dustland Runner, which was one of the first applications of the Fitaverse that OliveX is building upon.
(👁️ Check out what OliveX does)


What kind of people are you targeting with STEPN, Shiti?
Shiti: So when STEPN started out, crypto natives and gamers were the core audience. But we have expanded way beyond that. So right now, a third of our audience is actually crypto non-natives. There's a website called STEPN World, which is being formed by our community. And as we speak, there are events happening in Athens, Miami, New York, Paris, and Australia. That is kind of the impact that we want, and are now gunning for.

👟STEPN rewards running with NFT for upgrading the digital shoes and can even be cashed out for hard currencies. Co-Founder Yawn Rong said: the minimum users can earn is $25 for 10 minutes of activity. Some users are earning as much as $4,500 a day.

The New York Times once described STEPN as a kind of hybrid between the Pokémon Go and Strava. Would you agree to that?
Shiti: Yes, in the sense that it captures gamification on the app and the fitness element. However, what it probably misses to capture is the addictive element that we find on our app. What tends to happen is that initially people get hooked on the incentives. However, once fitness and that walking regimen become part of their routine, sometimes also in social settings, it becomes hugely addictive to them in a way that we had not anticipated before.


Shiti Rastogi Manghani: Distributor of the web to step
Shiti studied electronics and communication technology, communication management, and marketing in Deli and Ahmedabad. 14 years she experienced consulting and management in companies across the UK, US, India, and Europe. Shiti was awarded the UK Government's Exceptional Talent 2021 and the Women Tech Network Global Awards in the category "Women-Led Tech-Startup" of the Year 2020. Since February 2022, she works as the chief marketing officer at STEPN.
(🤝 Meet Shiti on LinkedIn)

STEPN: Addicted to running by web 3.0

For each step, the app STEPN rewards its users with NFT's once they put on their virtual shoe. Since STEPN launched in December 2021, the app has signed up 2.3 million monthly active users.
(👁️ Check out what STEPN does)


Andy, what's actually the entry barrier to entering the fitness metaverse that you are launching? What's the financial advice that you have to bring with you?
Andy: The entry was a customized NFT, which we dropped for free to over 600,000 users initially, so there's no entry barrier to it at the moment. For us, a financial reward is a bonus. But actually, it's the gamification that's really important and the storyline of our fitness audio game. We're trying to build mechanics within gaming to help incentivize people to keep coming back. Finances shouldn't be the pure motivation to keep coming back, because obviously, it's not sustainable. We want to make it fun, but also make it accessible enough to make exercise and movement worthwhile to users.

In the last week of May, the GMT and GST tokens you work with lost around 50% of value. How could your business model in the future be strong and robust?
Shiti: This is the first time that the crypto bear market is residing under an equities bear market, one of the most horrible macro conditions. Three big epicenters of global economic policies - Europe, the U.S., and China - are reeling under recessionary conditions. So, of course, stocks, bonds, equities, everything's crashing. The biggest coins are down over 89% now. It is really important in this market more than ever to build product businesses that are sustainable. You need the right team and a functioning product and app that people can use. We will be one of the best in the bear market.


News: The merge of health and Web 3.0
+++ U.S. healthcare provider OSF is researching the use of blockchain and cryptocurrency to incentivize people to stick to medical advice +++ Patientsphere uses Blockchain to make people sell their health care data to medical companies +++


Where do you see the intersections between FitTech, blockchain, and traditional healthcare? What else can health care learn from those industries?
Andy: What the health care industry could probably learn is actually start off with your user journey, make that the priority because the web series already there, the technologies are you can bring in consultants and ad agencies to help you with that side of it. But if you focus on the user journey, make that seamless, and make the entry barriers seamless. I think you're onto a winner.

Shiti, what can health care learn from FitTech and Web 3.0 mechanics?

Ownership of data 🔒
Incentives to motivate people 💪
Building a community 🧑‍🤝‍🧑

What needs to happen before web 3.0, fitness, and health care might merge?
Andy: We're not fully decentralized yet. In Web 3.0, there are still venture capitalists that own the platforms and apps. What needs to happen is to move that into fully decentralized. You own your own IP, your own data, and monetize your own data in some way.


Context of this article: Deep Dive: Health rules!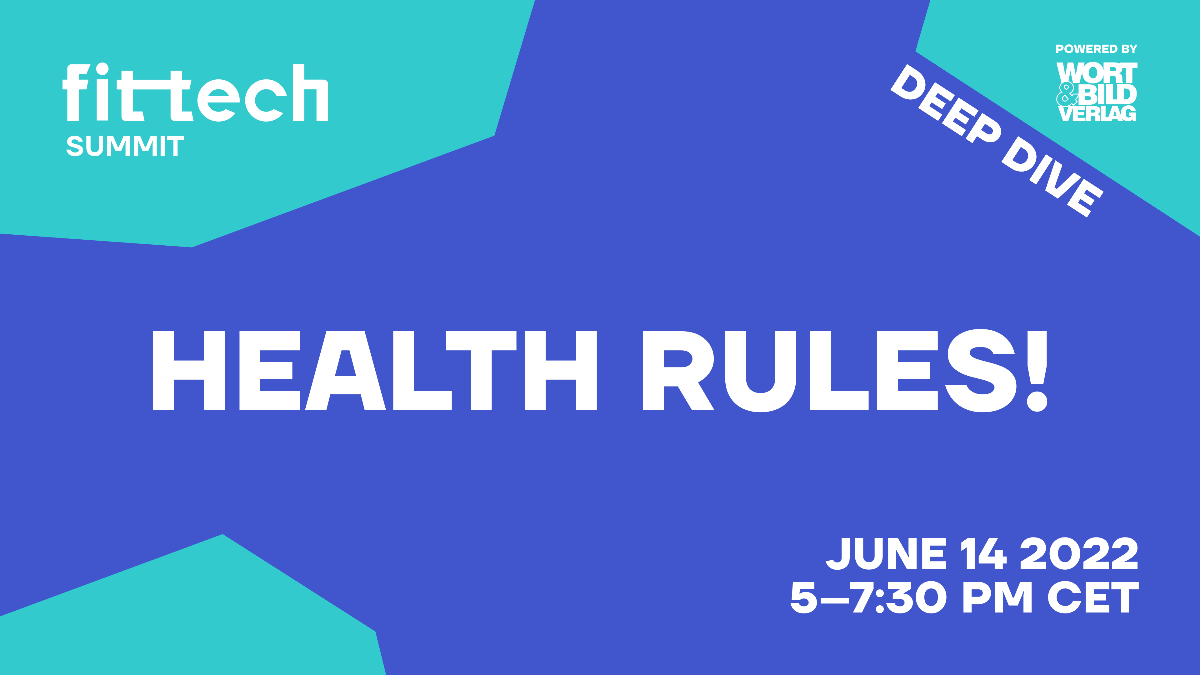 The context of the contents of this article:The FitTech Deep Dive event "Health rules" on June 14th 2022. With some of the world's top industry leaders who are forging the path forward through technology, medical integrations, and entrepreneurship, we discussed: The integration with healthcare is the greatest opportunity that lies in front of the fitness industry.