Analysts predict this market will grow tremendously by 2026 – and yet, female fitness technologies are considered a niche market. "There is still some explaining to do", say Hélène Guillaume and Karina Vazirova, prominent participants of the market. They'll explain details at the next FitTech Summit (get your free ticket now).

Many will marvel at this number, how many zeros it contains. That's because the value which experts predict for this market oscillates somewhere between the astronomical and fantastic: more than a trillion dollars strong by 2026. These are the figures shared by Ultraviolet, an agency that specializes in analyzing this very market: Female (Fitness & Health) Technology. For those who are now starting to count: That's one thousand billion or one million million dollars.


One of the players in this market is Tia, which offers women personalized medical care for the body and mind, off- and online. Raising $100 million in September 2021, the U.S. company is now said to be worth $600 million. The latest cash injection is proof that FemTech is not a niche, commented founder Felicity Yost.


10 talks about the future of fitness and health technology
4 tracks: Big Tech Attack /// The Interface Race /// Me, Myself & AI /// Future Spaces
2 days: 8 and 9 November
1 Place: The internet
FemFitTech Startup WILD.AI: "Every second woman is using our app actively"
A niche? That's exactly what Hélène Guillaume often heard at the beginning of her journey with her startup Wild.AI. "People were saying it's such a niche market and that we actually don't have a business. But how can women be a niche market?" the founder and CEO told us. Hélène's fitness app aims to help women at all stages of life exercise and recover better alongside their female biology. She also wants to bridge the data gap between men and women. The goal? Wild.AI wants to become the Bloomberg of female data. The odds are favorable: "After six months we have 46% retention, so every second woman is still using our app actively.
"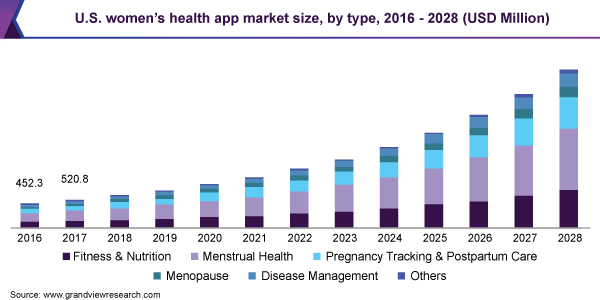 Another biggie: The market for female health apps alone is expected to grow 20% per year to nearly nine billion dollars by 2028. (Source: grandviewresearch.com)
FemTech Lab: "80% of mental health users are women"
Karina Vazirova is also building bridges. She is a co-founder of FemTech Lab. The accelerator writes on its Linkedin page, "Europe's first FemTech-focused accelerator that helps rising stars take their products to market and raise funding." What does that mean exactly? Karina: "'Fem' means serving women. We've had startups that were doing mental health for everyone, but 80% of their users were women." The Lab promotes sex tech (Vibease), solutions for menstrual pain (Moonai), or lactation consultants (LactApp) – and, it predicts four big fem tech trends:
1. Precision Health: Collaboration between healthcare and consumer brands
2. Wellbeing Pollination: Cycle-specific wellness offerings, from beauty to nutrition
3. Environmental motivations: A new generation of planet positive products
4. Radical Inclusivity: Periods are for everyone
Above all, however, FemTech is about an educational aspect. "Now I still get asked, if there is actually a revenue opportunity", Hélène says. Her prediction: "Hopefully, in five years we are not in this educational stage anymore and people understand the value of the product."
➡️ How realistic is this? Answers at Fittech Summit V: Tech or Die!