Medical fitness is one of the most compelling industry trends in 2022. The number of medical fitness centers has grown from 79 centers in 1985 to 1,400 in 2018. How is the role of fitness expanding into medical treatment, and how can we be part of that evolution?
Medical health in facts & figures

🥇 45,000,000,000 extra years
of higher-quality life, humanity could add over the next decade, according to McKinsey 2022. How? By challenging our beliefs about health and by reorienting material portions of public policy and the economy.

💗📱 FitTech-software going medical
While the number of disease-related apps has been increasing since 2015 (28% ➡️ 47%), wellness-apps have been decreasing (72% ➡️ 54%). (Source: IQVIA 2021)


How big is the potential of medical fitness?

Whose lives are you making healthier with your work in medical fitness?
Karl: Humans were designed to move. We have all this beautiful technology, but it makes it easy for us not to move. So we run into a lot of medical issues. My clinic helps people with movement disorders. About half of the people suffer from Parkinson's, others from multiple sclerosis or other diseases. One thing we know for sure is: If we get them moving, they feel better. It's like nature's antidepressant.


Karl Sterling: treating movement disorders with movement
Karl Sterling is a neuro-rehabilitation specialist and educator based in New York City. While he has extensive experience across treating various populations, he primarily specializes in clients with Parkinson's and other movement disorders in his Parkinson's regeneration training institute.
(🤝 Meet Karl at LinkedIn)


Karl: Parkinson's patients have a lack of dopamine in their brain. Dopamine is not only a neurotransmitter that goes from your brain through your nervous system to your body to tell your body what to do. Dopamine is also a motivator. One of the beauties of exercising is: You can create more dopamine. Once you get started exercising, you get the energy to keep going. And then you're going to feel better. So: Just get started.

Dennis, you're the chief editor at the Germany's most popular patients' magazine, usually found in pharmacies. What do you think needs to happen before we find your magazine in every gym?
Dennis: Any fitness outlet should be using our information. In Germany, pharmacies are the health outlets that put the least hurdles in the way of patients who are having a hard time to gain access to medical information. That's why we chose to use the pharmacy as a way to get health information to people. People who want to make fitness in their daily lives are hopefully already reached by our information.


Dennis Ballwieser: making medical information accessible
After studying medicine and working as an anesthesiologist, Dr. Dennis Ballwieser studied at a top journalism school in Germany. He's combining those two skill sets together as the editor and managing director of one of the biggest media companies in Germany that directly addresses patients: the Wort & Bild-Verlag.
(🤝 Meet Dennis at LinkedIn)


Dennis: The next big thing between fitness and the medical industry is to unite. They have to empower all people with new ways to improve their well-being. It is always about accessibility - especially for those, who don't take care of their own fitness and wellness by themselves.

Today, medicals prescribe pills, but very rarely fitness apps or work-outs. What's the reason for that, and what can we do to change that?
Eric: Part of the reason is that health clubs don't see themselves as health care providers. The second reason is that they often don't have a lot of FitTech-tools to collect medical information.
The third hurdle is to make use of this data. A couple of years ago I saw how much tools Technogym had. They're able to collect trillions of information. I asked them: Who owns that data, and what is it used for? They replied: 'We just give it to our consumers.' Health clubs need to get a little more savvy to convert that data for medical purposes.


Eric Durak: educating medical health
Eric Durak studied biology, exercise physiology and public health. In 1994, he founded MedHealthFit. After almost 30 years, the medical health company is involved in almost every area of wellness - like venture start up, population health data analytics, wellness programming, education or project management.
(🤝 Meet Eric at LinkedIn)


Eric: We work with health clubs to see if they can have one element of medical fitness - whether it's an assessment tool, blood sugar testing or hypertension testing. As a result, that data is available for the staff and the members when they work out. We educate health clubs to understand what a health care provider is. It's not a guy in a white coat. It's a group of people who are making an impact in their community.

The US health care system alone loses $100 billion annually in not correctly explained or followed medical instructions (non-adherence). How can technology help to reduce non-adherence to prescribed exercises?
Dennis: Working medical treatments depend on patients who experience feedback. FitTech can give patients instant feedback in an amazingly motivating way. Therefore, more people might be using this benefit of technology in the future.

Eric: Technology needs to serve the public better. Technology can actually make people feel better about what they're doing. Also, we should not forget, how valuable feedback from a trainer is for patients. Trainers should be able to apply apps and wearables for everyone, even for the 72-year-old woman who's working out to prevent falls. She needs to know what sort of exercise she needs and how technology can support her.


How can FitTech help to bring glory into prevention?

This year, a study published in "Environmental Research and Public Health" revealed a correlation between time spent physically active during the pandemic and motivation through digital health activities. What does this mean for public health?
Dennis: As long as most people and health professionals are making their money by trying to cure illnesses, preventative medicine like exercising will not be glorious. But the pandemic showed us: If we come up with the right data and evidence, if we give more people access to the right medical choices - that might change in the future. But it will take time. I think it might take another 20 or 30 years until we see "glory in prevention" in most of the industrialized nations.

According to recent publications, E-Sports and gamification also have enormous potential to improve users health and activity. How relevant are these trends for medical fitness?
Karl: I observed that if we gamify what we do, people are more likely to have fun, and they want to come back. With the help of games, they keep on moving. The good thing is: We come up with new thoughts and new approaches all the time.

Eric: Prevention is not sexy. But preventing complications, e.g. for diabetes patients with exercise, is a marvelous thing. If gamification or FitTech is helping patients to achieve that, it's a win for everybody. But before that happens, trainers and club owners should be able to parlay that to their customers.

What can wearables do to improve people's access to medical fitness?
Karl: Wearables help to create a better, more effective intervention strategy to improve gait, optimal movement and reduce fall risk. But for me, it's always about the question: What's driving patients to work out more? Many of our patients don't want to see the data. In many cases, our patients just feel good because they are moving better and safer. That is what drives them to do more.

According to Jeff Rogers, global research leader in digital health at IBM at FitTech Summit V, it's still a long way to go until data provided by wearables will actually bring a broad impact on society's health. Right now, data from trackers is nothing more than medical entertainment. "It's about selling watches", Jeff explained.


What do we still need before wearables serve the society at a greater level?
Eric: Jeff is right. We won't do anything with the data from trackers until it is aggregated, analyzed and published in high impact medical journals. Once you start from the scientific standpoint, doctors will get more interested, and they will refer to more people. After that happened, doctors might help health clubs to address the 70% to 80% of people who are not gym-members yet.

Dennis: For me as a medical journalist, the first question we ask journalists who come with stories they want to cover: Is there any evidence? If there is no evidence, it's not a topic for us. The medical community and fitness community will have to find a way to put data from fitness-trackers into publishable data. Once this data is publicized and peer reviewed, it will change the system.


Context of this article: Deep Dive: Health rules!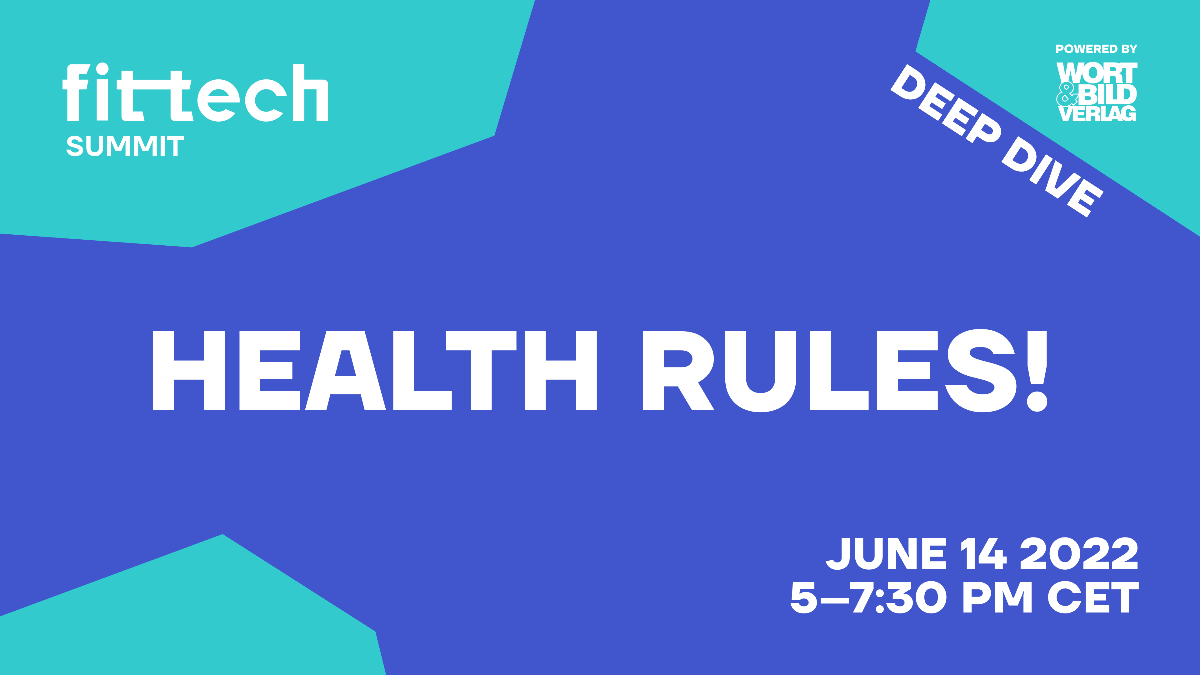 The context of the contents of this article:The FitTech Deep Dive event "Health rules" on June 14th 2022. With some of the world's top industry leaders who are forging the path forward through technology, medical integrations, and entrepreneurship, we discussed: The integration with healthcare is the greatest opportunity that lies in front of the fitness industry.