Younger generations are committed to social responsibility in all aspects of their lives. Active Giving uniquely rewards users for working out by planting trees. The trend towards sustainability is growing every day, says Laurent Petit, founder of Active Giving.

How did you come up with the idea of active giving?
The initial idea was simply to give while being active, that's why we called it "Active Giving" and we started in 2019. During that time, there was a huge crisis of deforestation in different parts of the world. I thought: This is the biggest emergency right now, so we're going to focus on trees. It worked well, people liked it, and we saw the benefit of it. In its most basic form, we collect activity data and turn it into non-profit funding.

What are the current key figures that illustrate the success of your app?
Active Giving has been growing since last October when we passed the milestone of planting our first million trees. Trees are a great metric for us as a showcase of growth. Those trees also have a social impact, and we don't just plant trees for the sake of planting trees. We finance tree planting projects where the local communities are involved, providing them with new jobs - driving improvements with social challenges like poverty, hunger, and getting kids back in school. In addition, we provided thousands of days of work for farmers. New partnerships with gym brands like EVO Fitness or STORM help us to connect with more people to achieve that goal.


Laurent Petit: Sustain to sustain
A few years after Laurent Petit studied public relations in Brussels, the idea for Active Giving came to him on a bicycle tour through Europe: Could we motivate people to be more active if they could save the planet with it? He founded Active Giving, which promises to do just that.
(🤝 Meet Laurent at LinkedIn)

Active Giving: running for a little more green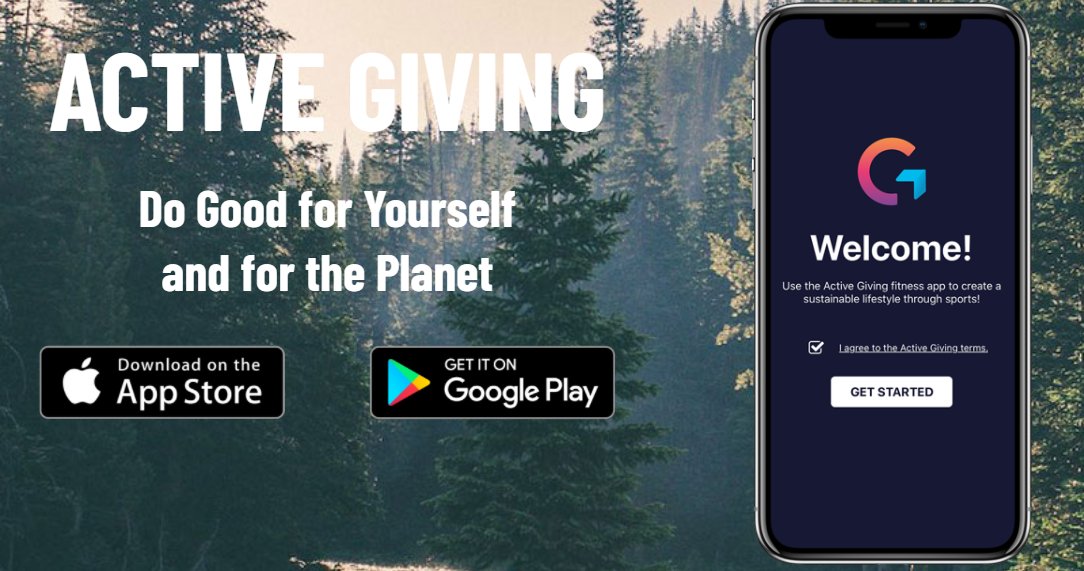 Active Giving is an App that tracks fitness activities and turns them into reforestation projects. The financing revenues come from ad placements. 63 percent of the Active Givers are women. Most of them are between 25 and 34 years old, active, and eco-conscious. The Main activities linked with the platform include running or other endurance workouts. More than 1 million new trees have already (April 2022) been planted since 2019.
(👁️ Check out what Active Giving does)


W.H.O. said: heat stress linked to climate change is likely to cause 38,000 extra deaths each year worldwide. So climate change directly threatens people's health. If people's health is the goal of the fitness industry, is it missing out?
I hope everyone in this industry starts to realize that it's an important topic. The mission of a health or fitness professional should be to take care of both humans and planetary health. Companies can not transition overnight and become super green. But once they have the wake-up call, today there are so many solutions out there to reduce impact and get your community involved.

What else can the Fitness and FitTech industry do about sustainability?
Fitness providers could get a good balance between what they offer and what they expect people to consume. The more you offer, the more you tend people to consume. When it comes to the consumption of the members, clubs or fitness providers can take the lead on how to engage them. For instance: If a club decides to go greener, it has to tell the members why they're doing this. The answer might be: "We want to reach those sustainability goals by 2030, and we want you to be part of it." It's very important to make sure that you embrace the fact that the member is going to be contributing to something bigger and better.

According to the Nielsen global responsibility report, 75% of the people under 34 years say they're willing to pay more for brands that are committed to the environment. How could sustainable fitness attract younger target groups?
I'm not under 34, but I'm still part of the millennial generation. What we demand from most brands is a commitment to sustainability. Brands have to understand that consumers expect a product that is good for everyone. And it's not only about the environment, it's also the social aspect - the workforce, how people are treated, equality, and so on. If someone was starting a new product or industry, all this should be taken into consideration. People now want to do good with their money, even if it costs a fraction more.

What new insights do you have about your target group since our last Interview in 2021?
Our users are usually between 25 and 34 and are active people. They are eco-conscious and are looking for ways to do good with their daily activities. Around 60% of our users are female. 50% are living in Germany. We also have a few users everywhere in the world. Because we have this common goal of planting trees and making the world a better place, it's really accessible to everyone. Our users vary from everyday exercisers to the occasional workout. It's something that we want to embrace: Active Giving is open to people with every level of fitness.

Are companies that want to get their employees moving more your primary target group?
Yes. The b2b-feature that we have on Active Giving is promising not only for companies who are wishing to activate the employees, but it also helps companies or brands to activate their community.

How are you handling companies who might try to use Active Giving for "greenwashing" purposes?
When companies invest in us, they want to promote their brand towards our community in the way we interact with the users when they get more active. They think of Active Giving as a marketing platform. We push them to work with us, because we decide to invest revenues into environmental social projects. If a brand would just wanted to plant trees, they would just spend money on tree-planting projects independent of us. But here, they take time to engage a community, which makes people more active alongside supporting the planet. When we work together with companies, we want to see what other sustainable strategies they have in place first. If they'd just want to put on a show by partnering with Active Giving and, on the other side, they have scandals about the way they produce or the way that they do their business, this cooperation would not work.

How will the market for sustainable fitness evolve?
I think there will be higher standards very soon. Probably it would become a far more regulated market where companies would be held accountable in a meaningful way. If it doesn't come directly from CEOs or managers of companies, it would come from the employees or the consumers. Because of that, the market will have to transition. I can't predict how many years it would take, but I'm looking forward to seeing what's possible.