Led by CEO Marianna Recchia, Tonus Tech envisions a world where people can stay fit for longer, supported by soft wearable robotics that mime human muscles, amplify natural energy, and reduce strain on joints. "I wish to democratize access to health and fitness to people of all ages and conditions."

Launched in 2020, Tonus Tech is a UK-based company specializing in soft robotics actuation technology. It is spearheaded by a team of researchers in robotics, health, and product design that met at venture builder Zinc. They are now developing supported by Danish incubator Odens Robotics and developing their first product, an exoskeleton bodysuit— a soft wearable robot ­that uses motion sensors to track joint health and gait speed.

Tonus Tech CEO Marianna Recchia is a business designer and product lead with experience in R&D and corporate ventures for mobility services and IoT-based applications.


Marianna Recchia about Tonus Tech
What is your current team setup and your funding model?
We are a small team of three people, plus interns and external collaborators, who are bootstrapping and relying on public funds. We received Odense Robotics public funds that enabled us to collaborate with researchers of the Danish Technology Institute. That's why we have very good support from experienced people in sensing technology, machine learning, and robotics technology.

Marianna Recchia @ FitTech Summit:Digital Edition

On May 25-28 2021, the FitTech Summit is going live with a fully digital edition, with three days full of insights devoted to the future of fitness and health in the post-pandemic world. We are pleased that Marianna Recchia will be part of this event.


What innovations are you developing, and are they based on any current trends?
We position ourselves in the soft exoskeleton (Exosuits) and wearable robots market. The size of the overall is projected to reach USD 788.3 million by 2026, from USD 149.4 million in 2020, at a CAGR of 31.9%. So, we have embraced the wearable robotics trend, although the field has a lot of challenges related to technical development and possible applications.

Inspired by soft Exosuits, we are developing a smart garment that will come on the market in the spring of 2022 at the earliest. It's an Exo bodysuit that combines different sensors to read basic emotion and come up with measurements of "longevity mobility" — things related to joints, flexibility, and muscle strength. It will have some kind of indexes that enables people to understand the current status of their mobility and what can be improved. We use polymeric stretch sensors that are the same kind of technology that we are testing also for the actuators for the future bodysuit. Usually, you use EMG (Electromyography) sensors. But we are also using another kind of sensor on top of that.



We are also building a digital twin to understand how you are now, what is your baseline to improve and what you can really do for that. Sometimes people feel they are too fragile to do sports. We want to show them that they can actually build muscle and flexibility and capability, on top of what they have.

How did you come up with the idea of an exoskeleton?
We were in a company builder called Zinc, dedicated to healthy aging and longevity. There, we created a multidisciplinary team of people with previous robotics and medical experience, related to multi-skeletal health.

We wanted to use these skills to come up with something new that could help people move for longer. We investigated lots of positive effects that sports have on the aging population, both psychological and health benefits. We wanted to make something for a "pro-aging" population — instead of "anti-aging" — because you don't have to fight the fact that you do age, but embrace it in the best way possible instead.

We interviewed people in gyms and exercise courses. We also partnered with YMCA and walking football organizations. We exercised with people over 50 to understand how they enjoy sport and what they wish for the future. Many ideas inside Tonus come from them, especially people with arthritis who already had experience with a passive exoskeleton (for skiing).

What can you share about the design of the bodysuit?
Developing the sensing suit is the first part. The suit will embed the actuators — these are elements or artificial muscles that help the movement, adding 5% to 20% more strength to the movement. They can have a spring load effect on the knee or could augment and pull the hip during walking. Our first experiments were in the area of spring-loaded technologies for the knee, similar to what Roam Robotics is doing. So for now we are focusing on the lower limb, between the knee and hip.



There are also several university studies we are bench marketing using exoskeletons that help the ankle to run faster. In the future, we are also considering sports applications for the upper body for sports like golf.

Also, it has to quite light, no more than 5 kgs, and even less if possible. Of course, this is our first application for walking and medical rehab applications. For something like running, it would be a totally different bodysuit and much lighter.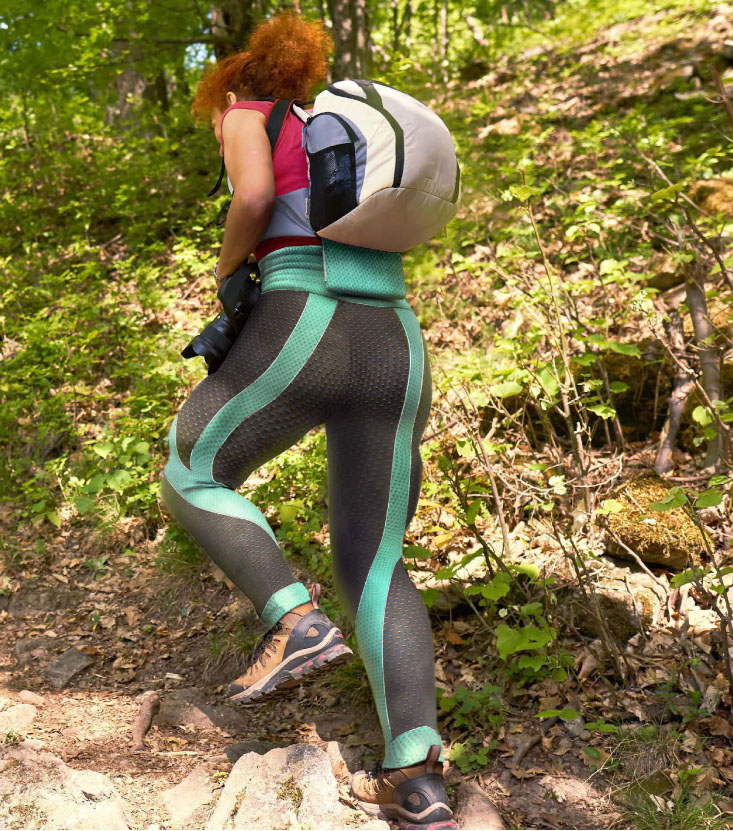 What are your distribution plans?
We will have an online sale, so direct-to-consumer. We are also trying to partner with gyms for the first test with people over fifty, with the possibility of introducing wearables during the courses. A possible model we're checking is for people to buy the garment and then combine it with a gym subscription service.

Although we don't want to create medical devices at the beginning, we are already seeing applications in physiotherapy. People affected by early-stage arthritis; recovering from hip or knee replacements, or with other muscle-skeletal conditions can buy the garment to have some kind of continuous monitoring.

In the meantime, we are also doing an R&D (Research & Development) stream for our actuators [components of a machine that are responsible for moving and controlling a mechanism or system, for example by opening a valve. In simple terms, they are "movers", ed.] to build this bodysuit.


Marianna Recchia about market trends
What do you know about the specific target groups you are currently developing new products for? And what data (facts, figures) illustrates these insights?
Our specific target group is people aged 50+ who are concerned about their health and wellbeing and need solutions to stay fit for longer. A study by insurance provider RIAS reports that the over 50s spend £1.5 billion a year on exercise and healthy eating. According to Eurostat in 2017, 45 % of the EU-27 population aged 65–74 years spent at least 3 hours per week on physical activity outside of work, compared with 33 % for people aged 75 years or more. Also, more fitness organizations like David Lloyd in the UK plan to employ trainers over the age of 55 and pay more attention to the demand of this target.

Aging is no more a barrier to play competitive sports. More scientific papers demonstrate the importance of HIIT or strength training for the older generations. Wearables can inform personalized training programs, according to the movement patterns, fitness levels, and pre-existing health conditions, whilst also increasing people's motivation and engagement. Our target population also has specific requirements towards the activewear market in terms of comfort, style, compression, and thermoregulation features of sports clothes.

What is the most underestimated trend in your current market at the moment? Why?
More than underestimated, we think that an emerging trend is the longevity economy. I think its value will affect more and more the sports industry.

How will the target market for your product look like in 2026?
We would like to develop our products following the changing needs of our target market, starting from providing assessment and feedback on the quality of movement, towards offering movement support and assistance.

We think that exosuit technologies, when applied to specific sports applications can improve training and physical therapy, support people to learn a new sport or come back to sports activities, and support and augment movements.


Marianna Recchia about the future
What are the three most important decisions you will make for your company in the next year?
Select the first niche application and market that are a perfect launch and fit for our product
Decide on a healthy and funding strategy
Build the first important partnerships for production and sales of the product

What headline would you like to read about your company at the end of 2022 in your most favorite publication?
"Tonus creates super-abilities for everybody." What do I mean by super-abilities?
I would like people of every age (I imagine people in their 70s and 80s) to continue doing sports for longer. The suits haveto look like garments — that's where the innovation comes in. They have to look good and also be used as an under-garment. My dream is to see the suit embedded in sportswear in a way that people cannot notice what is underneath.

What new (or updated) business model for your company might we be talking about in one year — will you sell the exoskeleton suits as apparel, or with a leasing/subscription model?
We are currently adopting a hardware-as-a-service model, similar to other sports tech companies like WHOOP, Mirror, or Peloton. We would like to start to talk in one year about technology license opportunities. The idea is that people can have the garment and with a subscription, we can offer specific kinds of services, like consulting a sports trainer or access to content. But also, offering a subscription for extended use of the data that could be used for muscle-skeletal health.

With Exoskeleton, are also checking insurances in the field of consumer and well-tech that can offer reimbursement and support people who would like to take care of their muscle-skeletal health.

If you think of the future of fitness in 10 years — what picture comes to your mind?
Every tool I see on the market has been developed for the average person, but there are people with different conditions, in different situations and ages. So, my dream is to see a set of complete tools and equipment that help people in every condition to do sports and the things they like for longer — with an exoskeleton being one of those tools.

The same technology we are looking at with Tonus Tech can incorporate dynamic compression, which is good for athletes but also for people with arthritis. Dynamic thermoregulation will also help people a lot. Also, developing trackers for everyone, such as people with disabilities.

The world of prosthetics has become amazing. Prosthetics are cheaper and 3D-printable. Similarly, we wish that printing, smart textiles, and local manufacturing could come into the exoskeleton field and make these technologies accessible and personalize-able for everyone.

Another trend might be implants [the creation of artificial muscles, ed]. I read that Bristol University is working on implants and their deadline is something around 2030. We are not working on that, but I think it will be far away in the line.

To summarize: it will be about democratizing access to health and fitness.

Marianna Recchia will be speaking at the talk "A brief history of the future: Fitness tech for the day after tomorrow" on May 27. Get your ticket here.