Climate change threatens not so much the planet itself as people's health. How can the fitness and health industry integrate sustainable concepts into its business and business models? Or is there only an either-or: profit or impact, Laurent Petit (Founder Active Giving)?
1. Why does the planet's health play a role for any gym user?
Laurent:

It's impossible to live on a healthy planet if people are not healthy. And I think it's impossible for people to be healthy if the planet is unhealthy

. So for me, there's a contrast between wanting to become a fitness business and not putting climate on the agenda.

💀 38,000 extra deaths a year ...
... linked to heat stress will climate change likely cause every year between 2030 and 2050, WHO says.


Laurent Petit: Sustain to sustain
A few years after Laurent Petit studied public relations in Brussels, the idea for Active Giving came to him on a bicycle tour through Europe: What would motivate people to do more sport than if they could save the planet with it? He founded Active Giving, which promises to do just that.
(🤝 Meet Laurent at Linkedin)

Active Giving: running for a little more green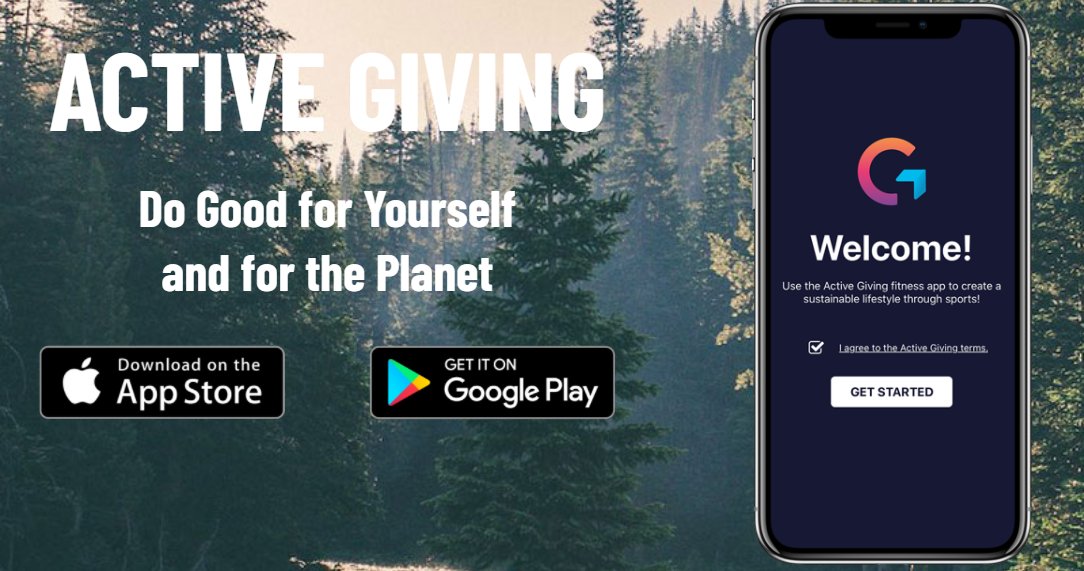 Active Giving is an App that tracks fitness activities and turns them into reforestation projects. The financing revenues come from ad placements. 63 percent of the Active Givers are women. Most of them are between 25 and 34 years old, active, and eco-conscious. The Main activities linked with the platform include running or other endurance workouts. More than 1 million new trees have already (April 2022) been planted since 2019. Active Giving basically generates revenues from ad placement.
(👁️ Check out what Active Giving does)

2. How could the fitness industry make an impact?

Laurent:

Generally speaking, the industry starts by changing its own practices and then educating our communities about the environmental issues at hand.Therefore, it can focus on three different scopes:



1st: Your Business
It's the energy and resources you consume as a busines

s. Gym owners have to pay close attention to their heating and AC systems, total energy consumption, and comparable aspects.



2nd: Your Partners
The second question is: Who do we work with

? Do our providers offer sustainable products and solutions?



3rd: Your Customers
Scope thre

e is about the members. Most gym members are jumping in their cars or Uber to get there. And if the gym is located in the city - why not include bike rentals in a gym membership offering a healthier eco-friendly travel option?



Almost 75% of people ...
... under 34 are willing to pay more for brands that

are committed to a positive envi

ronmental impact. (Source: quantis-intl.com)


3. What has to happen for the fitness industry to become a sustainable vertical?


Laurent: When we ar

e going to the gym, we are burning calories and putting in the work. But most of the gyms don't capture and utilize this energy yet. Examples like the new

Gold Gym in Berlin

are redefining the standards of fitness. An innovative way to attract members is having them generate their own energy on equipment like treadmills and spin bikes. That obviously pays off for the club and, in exchange, users get discounts on membership. So the more active you are in an eco-friendly gym, the more benefits you have for yourself. I think if you do it now, the timing is perfect.



How do we take action against climate change and maintain our ethics?
Laurent: It's important that your message is authentic. When we start partnerships, we want to make sure that they have a long

-term strategy for sustainability and that we're just one fun and engaging tool that they use to achieve that. With great partners, you make sure that people who are investing in climate are doing it for the right reasons.




4. How can fitness and technology help to slow climate change, Scott Dunlap?
... said Scott Dunlap, CEO at Runtastic about the project "Run for the Ocean" at the FitTech Summit V: Tech or Die! (November 8. and 9. 2021)
(🤝 Meet Scott at Linkedin)

Laurent: Run for the Ocean is a great example, I participated myself. (watch the video above) But I don't understand why they don't do it on a daily basis. We want to tell companies that there's a need for people to engage in such activities because it's amazing if every day you can wake up, do an activity and do good. So if you have to wait a year and just be active for two weeks, that doesn't make sense to me. It's not sustainable in a way.


5. What will you do for sustainable fitness in five years?

Laurent: My goal is that we become an official partner of the Olympics in 2024. So every athlete, every brand, every athletic fan - every part of the Olympics would just be on Active Giving. And by then, we probably have hit the first trillion trees planted.


Context of this article: FitTech Summit - FIBO Edition: High Tech Society

The context of the contents of this article: The sixth FitTech Summit at FIBO 2022. The German- and English-language business conference asked: How are fitness technologies (Fittech) developing our society? Answers were provided by 14 experts on three live stage shows:
Power to the People - how fittech is changing the reality of (new) audiences.
Cases of Places - how Fittech transforms places of (public) life.
The Planet's Tenet - how fittech influence worlds and systems.