Edition #1 will be published in German on January 31, 2022 +++ Magazine will be sent to the German-speaking healthcare industry +++ Circulation: 40,000 copies +++ CEO Natalia Karbasova: "As a health professional, you can still shape the future." +++ Download: fittechsummit.com/downloads
The increasing spread of technology in the world of health: significance for healthcare professions?
When big tech companies are developing fingernail sensors to detect diseases such as Parkinson's earlier or 'smart' shorts are making muscle energy expenditure and the probability of injuries more transparent thanks to sensors and AI then we're not talking about the future, but instead about today's fitness and health technologies. What does this development mean for pharmacies or the practices of doctors and physiotherapists? The first answers are provided by Edition 1 of FitTech Insider - a German-language magazine just now published by the FitTech Company in cooperation with the Wort & Bild Verlag, Germany's largest health publishing house.


FitTech Insider Edition 1: special issue for healthcare professionals
a cooperation between Isartal Health Media (subsidiary of the Wort & Bild publishing group) and FitTech Company (organizer of the FitTech Summit).
answers the question of how health professionals can profit from technologies (of the future).
presents current examples of innovative products and ideas from the world of fitness and health technologies.
explains basics and reveals trends in the Fittech industry.
target audience: doctors' and physiotherapists' practices and pharmacies .
comprises 50 pages with a circulation of 40,000 copies - and is mailed.
downloadable at fittechsummit.com/downloads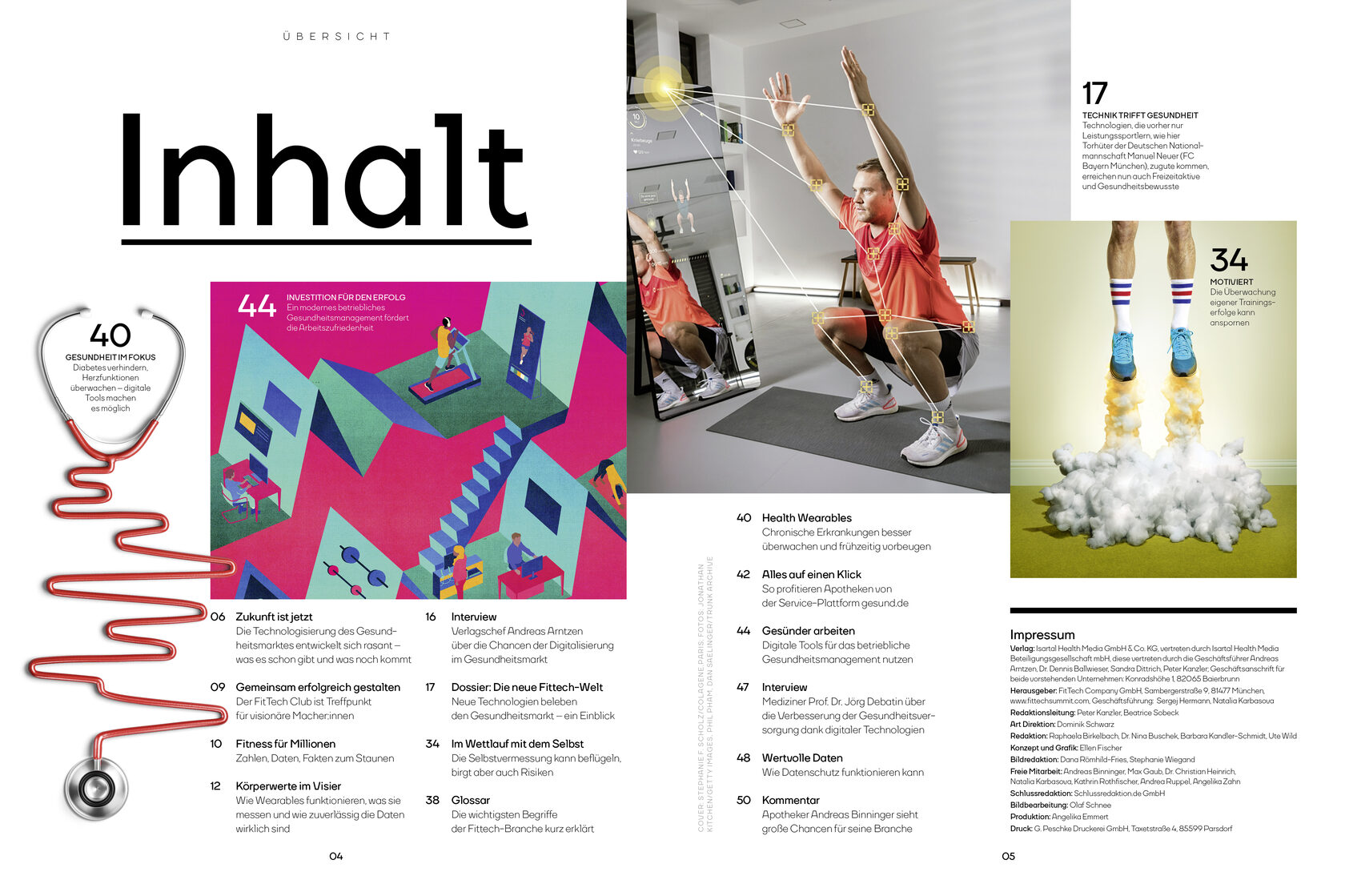 Topics: technologies for body, mind and soul
The spread of technology in the healthcare market: what already exists and what is yet to come
Health wearables: improve monitoring and early detection of chronic diseases
Tech for body, mind and soul: a selection of the most innovative products of our time.
Interviews: medical professional Professor Dr Jörg Debatin, pharmacist Andreas Binninger, Wort & Bild publishing director Andreas Arntzen.
Natalia Karbasova, CEO FitTech Company:
"Why should you, as a doctor, pharmacist or physiotherapist, pay attention to technology? Well, you still have time to actively start shaping the future of health instead of just being a passive observer. As more waves of technology-driven startups and tech giants enter the fitness, health and wellness space, you as a health professional can still jump on this train and benefit from the technology revolution in this space."


Andreas Arntzen, CEO of Wort & Bild Publishing Group
"I see great opportunities arising for health professionals ready to embrace the digital healthcare revolution. Those chances include better treatment, data-driven care and a deeper connection to the patients. We want to show what's possible today and what tomorrow has in store for us, so that our healthcare professionals don't leave the market to the tech giants alone, but will play a crucial role in shaping the future of patient care."


Sandra Dittrich, Managing Director Isartal Health Media
"Our joint magazine shows the benefits of digital applications for health professionals and their patients. It provides the readers with a unique overview of this booming market, showcases new technologies and provides a broader perspective in expert interviews. The magazine focuses strongly on current and emerging needs of consumers and patients as well as on the opportunities that emerge for doctors and pharmacies."


About the FitTech Company
FitTech Company hosts the FitTech Summit: Europe's leading conference platform devoted to fitness technology and the future of healthy lifestyles. Since 2018, it has welcomed over 350 of the world's leading fitness, health and tech visionaries on its stage, such as Tom Cortese (co-founder Peloton), Scott Dunlap (CEO Runtastic) and Hap Klopp (founder The North Face). Over two thirds of the attendees are high-level decision-makers. Natalia Karbasova (CEO) founded the startup together with Sergej Hermann (COO), Max Gaub (Chief Content Officer) and Andreas Schröder (Advisor to the Management Board, Business Angel).

About Wort & Bild Verlag
Wort & Bild Verlag, based in Baierbrunn near Munich, is the leading provider of health media in Germany. Its brands stand for high editorial quality, reliable and independent journalism and an immense popularity among users. Wort & Bild Verlag publishes Apotheken Umschau, Baby und Familie, Diabetes Ratgeber, Senioren Ratgeber, Ärztlicher Ratgeber, medizini, HausArzt-PatientenMagazin, der Digital Ratgeber and gesund.de magazine. The publishing house reaches around 28 million users per month in print and online.

About Isartal Health Media
Isartal Health Media, a subsidiary of the Wort & Bild publishing group, was founded in 2019. It builds on the publisher's more than 66 years of health expertise and successfully develops additional and new businesses in the areas of content marketing and content on demand, events and in health projects. www.isartal-health-media.com

Press contact
Max Gaub
Chief Content Officer
Email: max@fittechcompany.com
Photos & Layouts: download here
LinkedIn: www.linkedin.com/in/maximilian-gaub-8b5013150